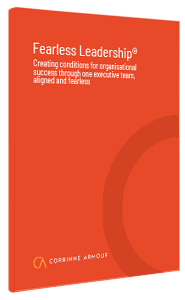 What does it mean to be Fearless Leadership team? Why does that matter? And how do we build a Fearless Leadership team?
Which of these challenges do you recognise in your leadership team?
Big delivery agenda and/or significant change about to hit
Leaders working in silos and not a strong and cohesive leadership group
Low trust within the leadership team and a lack of cabinet solidarity
Inappropriate behaviour going unchallenged
Focus is overly internal and external opportunities and risks are missed
Good results, fantastic potential… And there's more we could do
This White Paper addresses these challenges and more. I hope it stimulates some interesting thinking about what's happening now within your leadership team, and what could be possible.
Download the White Paper 'Fearless Leadership: Creating conditions for organisational success through the executive leadership team, aligned and fearless'.
Go Fearlessly
'My executive team has my back – every day with every issue.' YES or NO? Challenging question, right? Every day? Every issue? This question is from my Fearless Leadership® Quiz, and I ask this of senior leadership teams to assess which domains of Fearless Leadership need most attention. This question gets to the heart of […]