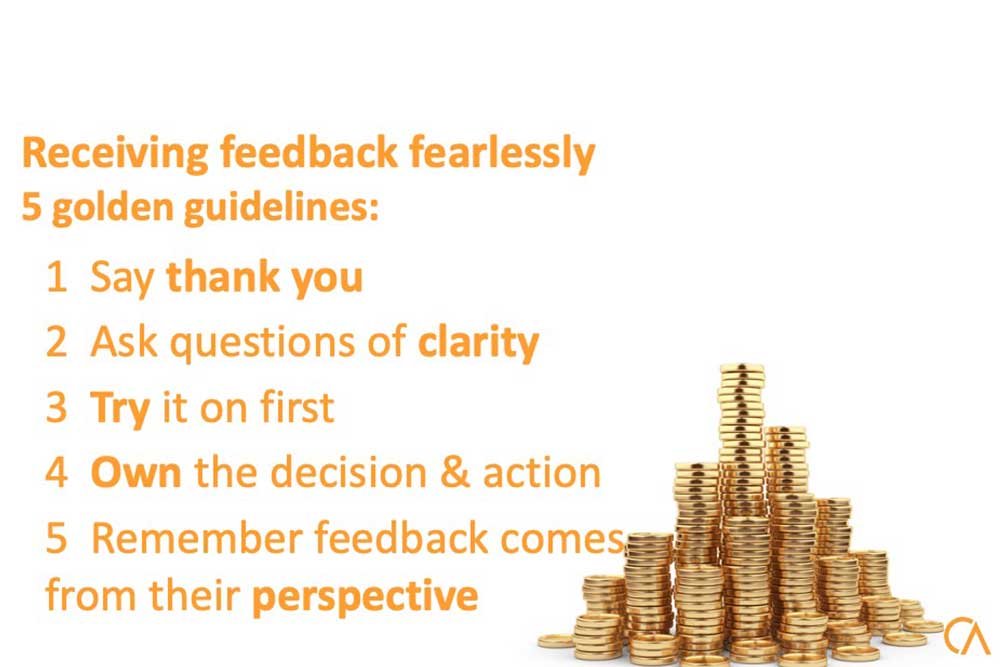 What's the feedback you hope your manager doesn't give you? 
This is a question I ask people in my Fearless Conversations program. They identify specific feedback they hope the never hear, and then in small groups someone says that to them and the person practices responding gracefully. It's an opportunity to practice the 5 Golden Guidelines of Receiving Feedback Fearlessly.
Things people have said in recent programs include:
'You haven't improved at all since we had your performance conversation 6 months ago.'
'You don't fit in here.'
'The project you have worked on over the past 4 weeks doesn't add any value to the business.'
While what they say is interesting, the way they say it is fascinating. They become smaller, voice volume drops, energy is low… As they say out loud what they least want to hear, their confidence visibly seeps away.
Every time I watch this activity, it reminds me how much most people care about their work, the quality of what they deliver and the way in which they are regarded by their leaders.
As a leader, how well are you giving regular feedback and coaching to your team members so that this fear doesn't come to fruition? 
No-one deserves to be surprised by the feedback they hope they never hear! Regular open and honest feedback – offered in a way people can engage with – supports ongoing development and prevents nasty surprises.
What feedback could you offer today? To whom? Right – so get into it then!
Go Fearlessly
[/et_pb_text][/et_pb_column][/et_pb_row][/et_pb_section]
'My executive team has my back – every day with every issue.' YES or NO? Challenging question, right? Every day? Every issue? This question is from my Fearless Leadership® Quiz, and I ask this of senior leadership teams to assess which domains of Fearless Leadership need most attention. This question gets to the heart of […]