Fearless Leadership
Creating the conditions for organisational success.
FEARLESS LEADERSHIP
One Leadership Team, Aligned and Fearless
To be Fearless is to create the conditions for organisational success by leveraging the professional expertise and combined wisdom of your leadership team.
Right now many executive teams face these challenges:
Big delivery agenda and/or significant change planned, with much at stake. The board, key stakeholders and markets are watching executive performance.
Leaders are working in silos. Smart divisional heads are not working as an organisational leadership team focused on a shared purpose
Low trust within the leadership team, with different styles leading to misunderstanding and friction.
Lack of cabinet solidarity. The team lacks safety and decisions and agreements are made with little real debate, and are not supported outside the boardroom.
Inappropriate or incongruent behaviour goes unchallenged. Leadership teams can lose sight of community values and stakeholder expectations.
Staff are watching, and not liking what they see. People across your organisation aren't adopting the values posted on the walls – they are following the lead from the executive behaviour they experience, and it's not always pretty.
Limited and inward facing focus, so faint signals of opportunity and risk in the external environment are easily missed, putting a sustainable future in jeopardy.
How Fearless is Your Leadership Team?
Executive teams range from Oblivious to Dysfunctional to Fearless with their culture, ability to meet objectives, and effort-to-impact ratios varying greatly. Fearless leadership teams operate in a league of their own.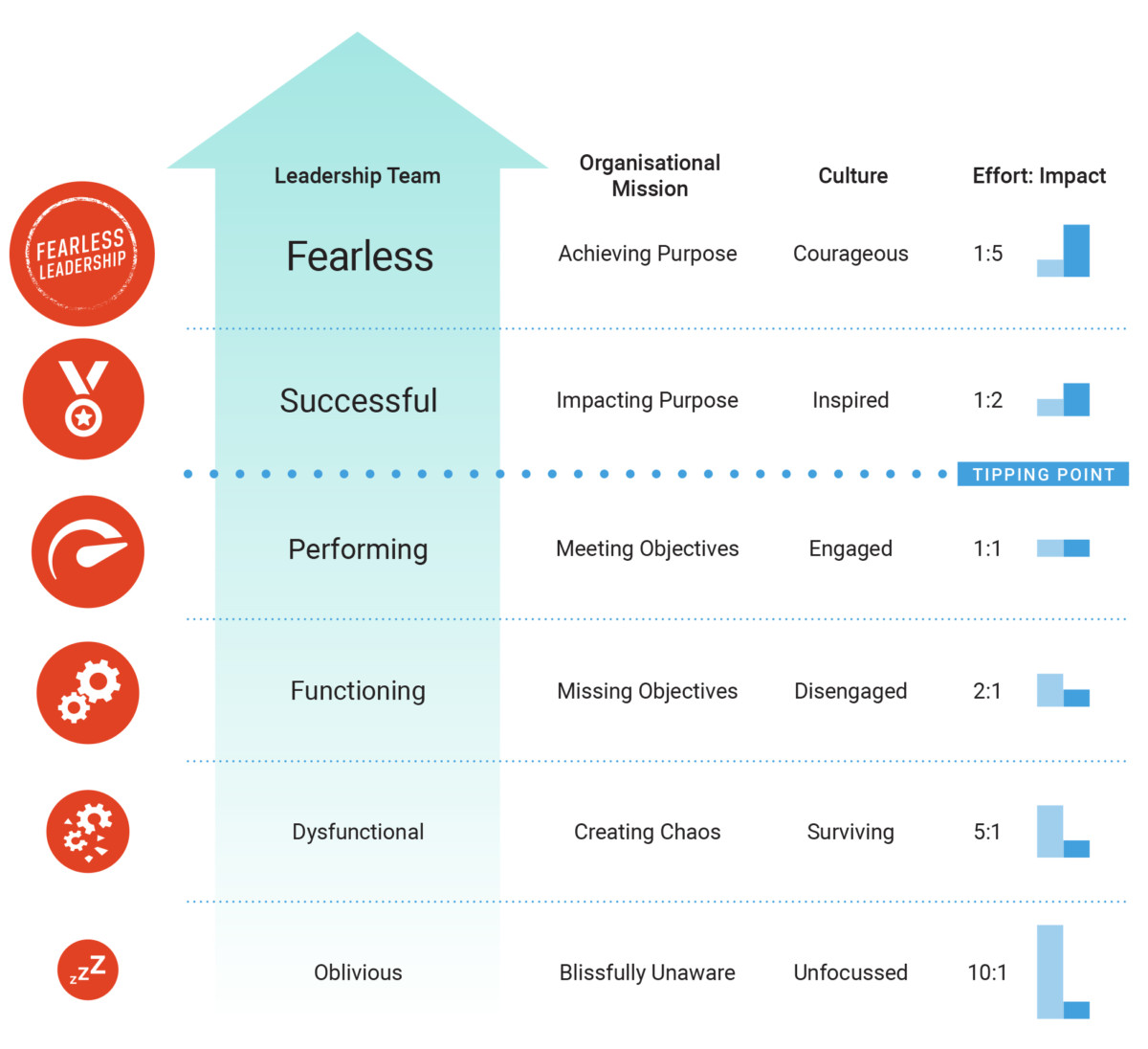 The Results
The transformational outcomes of Fearless Leadership are game changing:
Aligned and clear: Your team's agreed and shared purpose aligns with the organisation. The team works as one.
Shared vision: There is clarity on the organisation you want to be and what you stand for.
Communication that builds not bruises: Your team is equipped to constructively surface and address underlying tensions.
Decisions made and honoured: Team decisions are confidently and robustly debated, then committed to and upheld by the entire team
Accountability: Team members hold themselves and each other accountable for individual and collective successes and failures.
Courageous culture: Your leadership team models the Fearless dynamic needed for success. Inappropriate or incongruent behaviour goes is challenged and addressed in real time.
Confidence and safety: Trust across the team creates an enhanced appetite for innovation and risk. They have each other's backs.
Inclusion that generates results: Leverage the diversity of your team – Decision-making, personal styles and professional expertise.
External awareness: Tuned into external context and abreast of strategic opportunities and threats to secure a sustainable.
Organisational success: Flows from a leadership team that connects deeply, leads fearlessly and delivers transformational results.
Fearless Leadership teams create the future.
We went into Fearless Leadership as a dysfunctional team. Corrinne provided an energy and process that has enabled barriers to be broken down and opened the gateway for the leadership team to be more sharing and trusting with each other. We now look past perceptions to interpret behaviour as it is intended.
Corrinne has a unique way of working. During one session around feedback, rare nerves were uncovered and light bulbs went off. Despite discomfort, people were able to give genuine feedback and also to receive it in the spirit it was offered.
Corrinne took our leadership team on a journey of self-discovery that has transformed us from being a 'group' of people to a 'team' of people. As a newly formed divisional senior management team striving for early excellence, Corrinne helped us navigate and fast track our journey to becoming a 'fearless' leadership team. The combination of leadership coaching, facilitation and neuroscience brought about an elevated energy and wisdom to the journey to help us really understand and appreciate ourselves and each other.  This style and approach is unique, bringing quick results and equipping the team with the right questions and tools.
I approach team building activity with a degree of scepticism! Corrinne understood where I was coming from and challenged me – and the whole team – to be better. The conversations we had as an executive team built on each other, without feeling like we were being fitted into a plan. Corrinne is flexible and knew when to push us and when to hold us in a conversation, resulting in people taking risks with personal disclosure, and growing from that, both individually and holistically as a team.
Corrinne delivered well above and beyond my expectations. She connected with the leadership teams immediately and was able to facilitate the workshop extremely effectively. My team left feeling motivated and open to change and these sentiments have continued well after the workshop. I was so impressed with the way Corrinne was able to speak to each person on their level and energise the room.
We are all feeling excited about the future of our business and the change our leadership team will create.