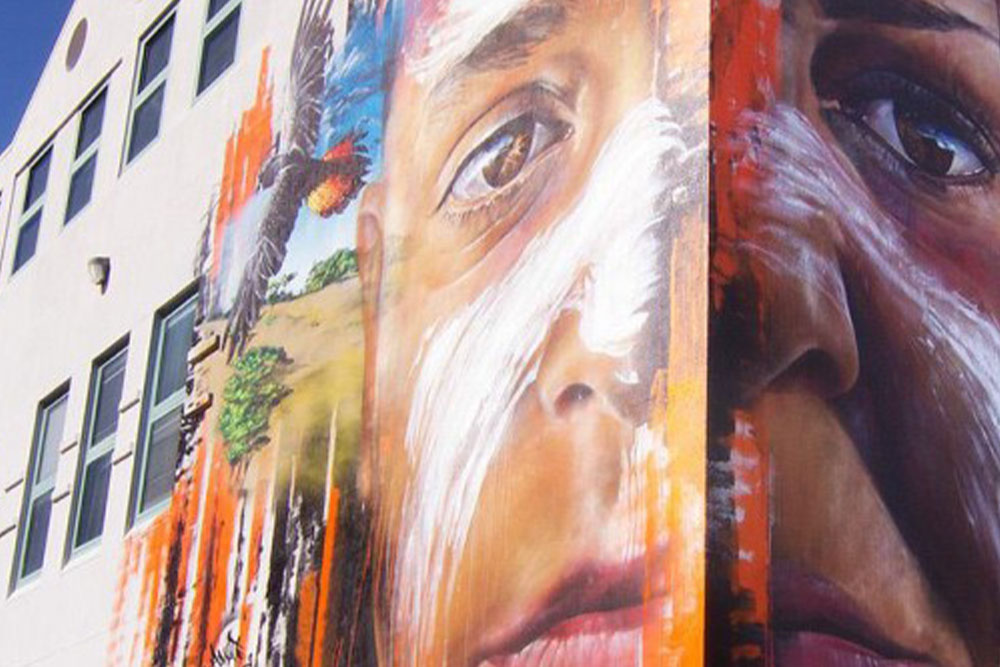 Arrive in Warrnambool in Western Victoria by train and you will be greeted by the very striking Ngatanwarr (Welcome) Mural, painted by world renowned artist 'Adnate'. The mural incorporates information detailing significant cultural sites and narratives of the Gunditjmara and Great South Coast region.
The mural has been picked up by arts and travel media internationally, but this isn't a travel blog…  How does this relate to leadership?
A project group of four participants from Leadership Great South Coast* conceptualised, galvanised the community, raised the funds and commissioned the mural. Congratulations to Paul Lougheed, Marcus Clarke, Allan Miller and Carolyn Woods who managed this around their day jobs!
One of the highlights of my training calendar is my work with Leadership Great South Coast. Recently Paul and Carolyn from the project team came to share their learning with the group. Their advice on running a successful community project was so good I thought I would share it with you here.
Project learning from The Ngatanwarr Mural
Be aware of personal and project capacity
Invest in your project plan
Have a clear aim and SMART objectives
Expect the unexpected. Be willing to negotiate
Invest in relationship building
Value diversity on the team
Ask the important questions: What is the community need? What are the risks? What are our non-negotiables?
Ask for advice. Consult broadly
Document the process
Celebrate achievement!
I think the best piece of advice is 'Expect the unexpected. Be willing to negotiate.' How might that advice serve you today?
Have an Extraordinary day!
* Leadership Great South Coast offers a year long leadership development program is aimed at emerging and new leaders sourced in the Great South Coast region (centered around Warrnambool). Each year I am inspired by the growth of the program participants. Part of the program is a community project with two key benefits: 1) leadership learning in action for the participants, and 2) an outcome for the community.